Are You in the Book of Remembrance?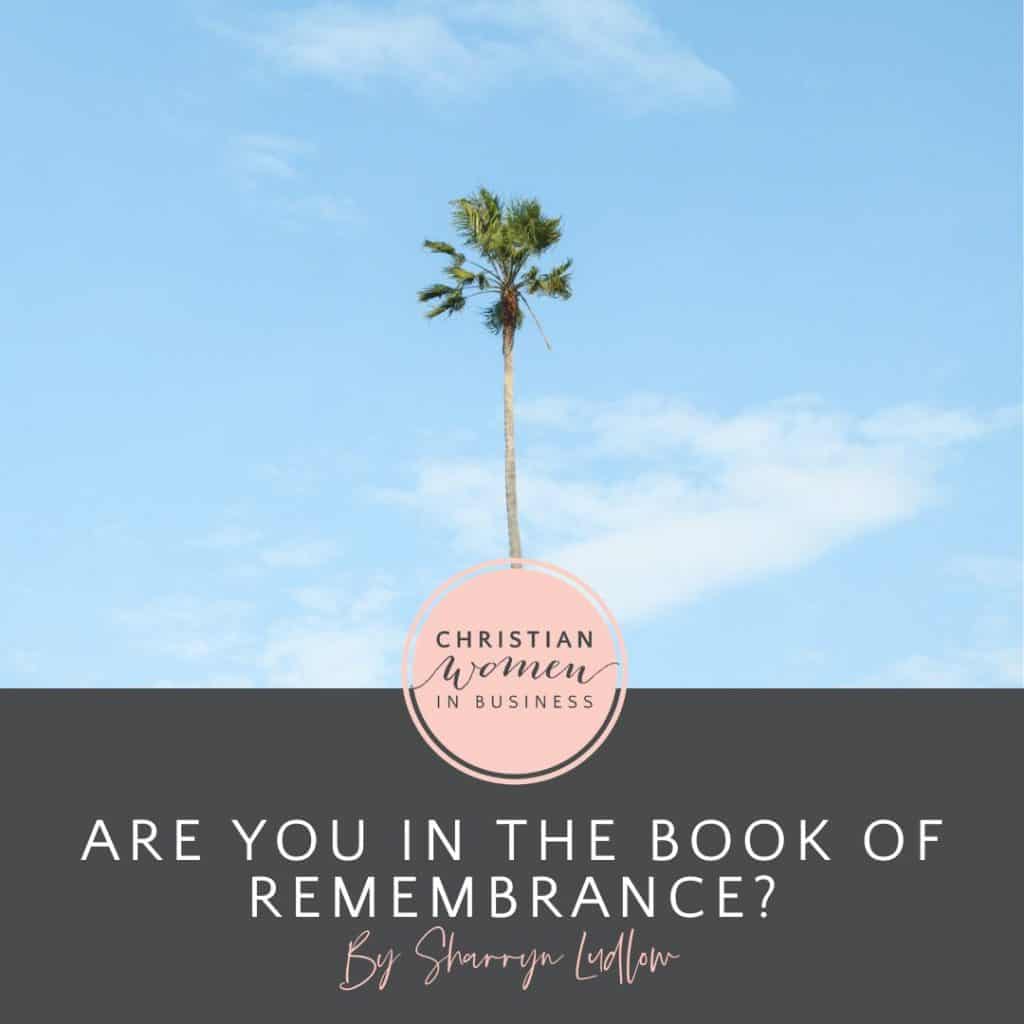 As I sit here thinking of you, in truth I am struggling with what to share with you. Because there is much I would like to say but quite frankly, many cannot even hear it. I could just share light and shallow things, merely to encourage you in your business and yet I sense within myself that God is looking at us all with expectation of something more eternal.
Jesus said 'when the son of man returns, shall he find faith in the earth?' And I guess I'm sensing that question is still sitting in the air.
You and I can live our lives under the banner of 'Christian' and yet never really yield our life to Christ. We pursue our dreams, work hard in our businesses, run around after our families and our life is still ours. The question of laying our lives down for Jesus Christ or what that looks like is not truly on the radar.
I love how Paul says I've learned how to hold onto this faith through it all, whether in the good times or bad, whether in prison or the palace. He frames it so beautifully with 'to live is Christ, to die is gain'.
The world is changing and many are afraid. But as Christians, why would we be afraid? We should be the ones that know God, that have faith in Him. That walk with Him daily, in the Spirit, not looking to the left and the right.
Serving the gospel however, we can. Seeing people saved, into the Kingdom of God.
Jesus said 'And you shall hear of wars and rumours of wars; see that you be not troubled' (Matt 24:6).  He goes on to say 'But he that shall endure to the end shall be saved. AND THIS GOSPEL OF THE KINGDOM shall be preached in all the world for a witness unto all nations, and then the end shall come' (v13 + 14).
So, don't be troubled, endure to the end – with faith. But look at the framework of what needs to happen. The gospel is so critical, it is essential that it goes into ALL the world for a witness. That is not church my friend. That is not the Christianese that people see to think is the gospel. What is the gospel? And more importantly, what is the gospel of the kingdom? Something for you to consider.
Think of the millions that die without meeting Jesus.
ARE YOU READY TO CREATE A POSITIVE CULTURE OR COMMUNITY THROUGH YOUR MARKETING & LEADERSHIP?
LADY, WE ARE SO EXCITED TO BRING TO YOU THE CWIB COMMUNITY CONFERENCE/RETREAT FOR 2021!
WE HOPE YOU'RE READY FOR AN AWESOME TIME…
DATES: 20TH FEB TO 21ST FEB 2021
LOCATION: ALEXANDRA PARK, ALEXANDRA HEADLANDS, SUNSHINE COAST, QLD, AUSTRALIA
In many ways, we have thought church is the vehicle of the gospel, and it is not. We have thought social works or just loving people is the gospel, it is not. We have relied on others to give their life to 'ministry' while we stay out of it building our own things.
But the bible says, in a few different places, God was looking for someone – anyone – that would go for him but he could find no one.  He had to do it himself. And yet, he still looks for those that really will lay down their life to serve him.
This is a deep way of writing, and I know I'm touching on things that many do not truly understand but oh God that you would. There is nothing like that moment when the gospel is preached and people respond to Christ and healings, deliverance and transformation takes place everywhere. It's such a rare sight that few even know what I'm talking about. But isn't that the model of Jesus Christ? Isn't the model of Paul?
You and I need to get on our knees praying for the salvation of Israel and the world. We need to cry out to God for the evangelisation and saving of the world. Asking heaven what might I do, where should I go, how can I help. Calling on the name of the Lord for the anointing, and the power from on High that was spoken of in Acts 1 and Joel 2.
And let me tell you something I know. When you give God your all, He takes care of your family, your business, your finances, and all the other stuff you let cloud your mind and take your time.
I hope you hear my heart. It is to drive you onto your knees in prayer, to compel you to fall in love with the bible and to think of the things of God. And get around people of like mind. It will change everything.
My favourite verse in recent times is this:
'Then they that feared the Lord spoke often one to another; and the Lord hearkened and heard it, and a book of remembrance was written before him for them that feared the Lord, and that thought upon his name.
And they shall be mine, saith the Lord of hosts, in that day when I make up my jewels; and I will spare them, as a man spareth his own son that serveth him.
Then shall you return, and discern between the righteous and the wicked, between him that serveth God and him that serveth him not'.
Malachi 3:16-18
Let that be you and I.